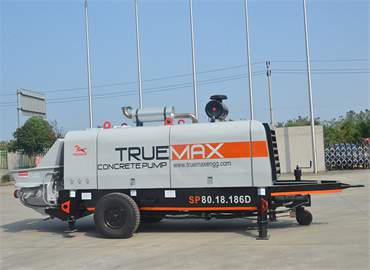 SP80.18.186D
Introduction:Through the disk button, easy to operate, you can automatically withdraw the concrete piston into the water tank, TRUEMAX's double cylinder piston return technology reduces replacement time of concrete piston

Product Details
1.Through the disk button, easy to operate, you can automatically withdraw the concrete piston into the water tank, TRUEMAX's double cylinder piston return technology reduces replacement time of concrete piston
2.TRUEMAX concrete pump vehicle is equipped with unique technology. Vehicle is designed with proprietary backflow prevention of oil return circuit. During equipment maintenance and repair process, no need to pump hydraulic oil in hydraulic oil tank , effectively reducing a large number of working hours and 2nd pollution and preventing oil pollution to the environment.
3.Just turn the electrical control button, the high and low pumping pressure switch will be completed in a flash, you can even switch in the pumping process according to needs.
4.Using the large displacement integrated hydraulic integration block in the industry. Compact design, simple oil passage, simple and reliable connection of hydraulic pipeline greatly reduce leakage, reduce system liquid resistance and system temperature rise
5.DEUTZ diesel engine, with low speed big torque, fast acceleration starting; small volume and light weight; low vibration, low noise, low fuel consumption, long repairing interval cycle, low operating cost; emission China V; high reliability with low cost.
6.The hydraulic system mainly consists of three pumps, which control the movements of the main cylinder, swing distributing oil cylinder and stirred motor.
Parameters Table
ITEMS

UNITS

SP80.18.186D

Performance

Theo.Output(Low/High)

m³/h

85/50

Concrete Pressure(Low/High)

MPa

10/18

Main oil Pump

/

Rexroth

Distribution Valve

/

S Valve

Concrete Cylinder(Bore×Stroke)

mm

φ200×1800

Hopper Size(Capacity×Feeding Height)

m³×mm

0.7×1410

Power system

Engine

/

Deutz

Rated power

kW

186

Rated Speed

r/min

2100

Hydraulic system

Hydraulic System

/

Open Circuit

Type of Cooling

/

Air Cooling

Overall

Overall Dimensions(L×W×H)

mm

7130×2060×2680

Total Weight

kg

7300
Customer case